Rising Majority calls on people of conscience and all progressive movements to stand with Palestine in this critical moment and demand CEASE FIRE and STOP THE GENOCIDE being led by the Israeli apartheid state and funded by the United States Government.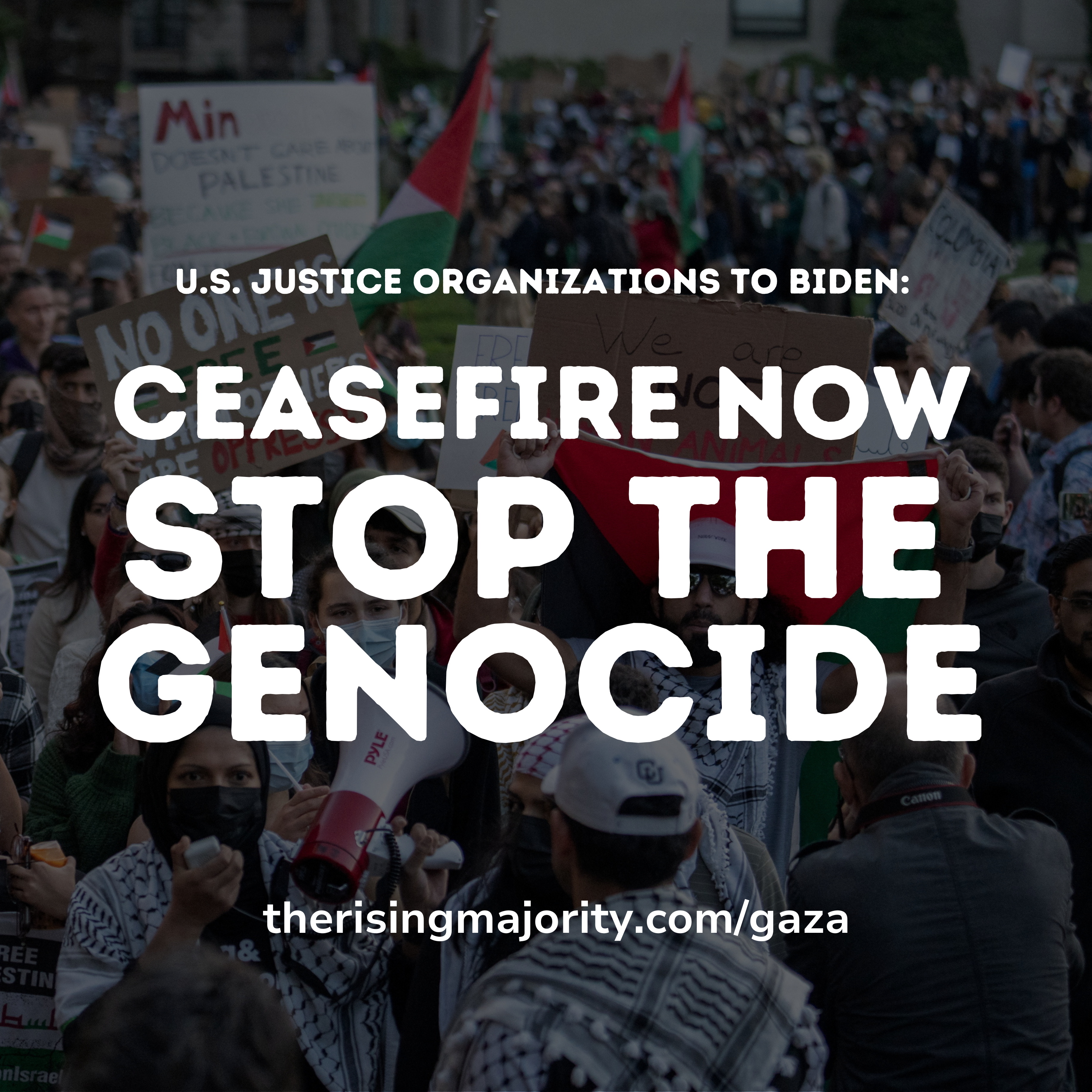 We join the thousands1 who have been in the streets across the world to express solidarity with Palestinians in Gaza who are facing the worst bombardment in their history. We are outraged by this violence and condemn the Israeli apartheid state that is currently doubling down on collective punishment of the Palestinians and tightening its nearly 17-year siege of Gaza. This includes the prevention of any electricity, food, water and fuel to enter Gaza. And over the past few days, in addition to physical violence and attacks, we have witnessed the racist denigration of Palestinians as "barbaric" and "human animals" (in the words of Israeli Defense Minister Yoav Gallant). We will continue to strengthen our efforts for a Free Palestine and the pursuit of liberation, justice, and freedom for all oppressed people everywhere.
The developments of recent days must be placed in the context of Israel's colonization of Palestine, which began in 1948. For 75 years, the military occupation and apartheid regime has only intensified2: violently displacing hundreds of thousands of Indigenous Palestinians and replacing them with Israeli settlers in the occupied West Bank, including East Jerusalem, and launching large-scale military offensives against the predominantly refugee population in Gaza who are trapped in an open-air prison with no means of escape.
It is critical in this moment to bring attention to U.S. government's role in aiding apartheid and war crimes, with Israel as its largest recipient of foreign assistance at $3.8 Billion a year and totals more than $260 Billion3. With this aid, Palestinians in the occupied Palestinian Territory (West Bank, including East Jerusalem and Gaza) are living under military occupation with profound restrictions on freedom of movement. In Gaza, Israel has subjected 2 million Palestinians to a brutal siege for over 16 years, where Israel can deny all access to basic necessities like food and clean water, and has created an uninhabitable situation4. Across historic Palestine, Palestinians, including women, children, and the elderly, live as second and third class citizens in an apartheid regime These are taxpayer dollars going to occupation, apartheid, war crimes, and genocide. On October 10, President Biden promised to send even more weapons and military funding to Israel. This course of action by the U.S. should be alarming to any of us who are concerned about the growing threats of authoritarianism and fascism in the U.S. and around the world, as the actions of the Israeli apartheid state bolster these efforts to target oppressed people with impunity. Support for Israeli apartheid and genocide against Palestinians is a threat to all of our struggles for multi-racial democracy.
WHAT WE CAN DO:
Individuals and progressive organizations are called to endorse this letter, share it broadly, and encourage more endorsements from grassroots organizations, faith leaders and places of worship, unions, scholars, and all people of conscience.
Plan or attend a local demonstration to express your community's solidarity with Palestine and call for de-escalation, no more weapons to Israel, and an end to U.S. military and financial aid.
Make a call to your congressional representatives and demand de-escalation by the U.S. congress immediately.
Send an email to your congressional representatives to demand an end to U.S. military funding to Israel.
Join the movement for Boycott, Divestments, and Sanctions (BDS) against Israel, which is inspired by the anti-apartheid movements in South Africa.
Connect with a local or national organization organizing for Palestine year-round to lend your time and resources.
Where possible, partner with progressive electeds to advance resolutions in your city calling for the end of U.S. financial and military aid to Israel.
For people of conscience and progressive movements in the United States, we see many similarities between the resistance movement of Palestinians to military occupation and the movements we are part of here to end racist policing, incarceration, occupation of Indigenous territories, and white supremacist, Christian fundamentalism targeting Black people, people of color, immigrants, women, LGBTQ people, and the poor and working class. We see our struggles for a true, working class democracy and an economy that functions for the many and not the few reflected in the struggles of the Palestinians to determine their own future, control their own destinies, and to work, play, learn, and have families without the constant threats of displacement, dispossession, and death. We remember the solidarity expressed by the Palestinians during the uprisings after the police killing of Mike Brown: instructions on how to deal with tear gas, the weapon produced by the same manufacturer and deployed in Ferguson and Palestine. We call each other to action because our struggles are inextricably linked.
The deaths of at least 2,500 Palestinians and Israelis since October 8, is an unnecessary demonstration that Israel's military occupation of Palestine does not protect human life. It does not protect the interests or lives of all peace and justice loving people, whether in Palestine or the world over. We hope that it can be recognized now that the only way for anyone of any ethnic or religious background living Occupied Palestine to be free is for the end of the Israeli apartheid state.
Our organizations below, representing broad sectors of movement and society, have endorsed this letter and call to action because of our belief not only in the right of oppressed people to resist but because of our belief that a different world is possible. A world in which the values of love, justice, dignity, solidarity, and care are central to our society, democracies, and economies. A world in which all human life is truly sacred.
ENDORSED ORGANIZATIONS/INDIVIDUALS:
Individual and organizational sign ons can be added here. This list will be updated daily.
18 Million Rising
718Coalition
AAPI Women Lead
AORTA (Anti-Oppression Resource and Training Alliance)
About Face: Veterans Against the War
Action Center on Race and the Economy
Alchemystic Studio
API Chaya
Arab Resource & Organizing Center 
Armenian-American Action Network
Asian American Peer Counseling Collective
Asian American Resource Workshop
Black Organizing for Leadership and Dignity
Black Workers for Justice
CAAAV: Organizing Asian Communities
CAIR San Francisco Bay Area
Carceral Tech Resistance Network
Center for Political Education
Chinatown Community for Equitable Development
Communities United for Restorative Youth Justice (CURYJ)
Courage of Care Coalition
Dream Defenders
DRUM – Desis Rising Up & Moving
Durham Beyond Policing
Durham for All
Durham Workers Assembly
Esther Cooper Jackson Book Study
Equality Labs
Facilitating Power
Freedom Action Now, Inc.
Freedom, Inc.
GALAS LGBTQ+ Armenian Society
GAPIMNY—Empowering Queer & Trans Asian Pacific Islanders
Grassroots Asians Rising 
Grassroots Global Justice Alliance 
HEAL (Health, Environment, Agriculture, Labor) Food Alliance
Highlander Research & Education Center
Houston Abolitionist Collective
How The West Was Saved/The Freedmen's Bureau
Hyp-ACCESS Inc
Independent Jewish Voices- Toronto and York Region
Indigenous Environmental Network
Jewish Voice for Peace (JVP)
Lavender Phoenix
Liberation in a Generation
Man Forward
Movement For Black Lives
Mirror Memoirs
Muslims for Community Action and Support (MCAS)
Muslim Counterpublics Lab
Muslims for Just Futures
Muslim Women For
NC BLOC
NC Public Service Workers Union- UE Local 150
OPAWL-Building AAPI Feminist Leadership
Open Circle
Open Hearts Social Club
Palestine Feminist Collective
Palestinian Youth Movement
Progressive Technology Project
Project Hajra
Reale Justice Network
RedCut Collective
Right to the City Alliance
Scholars for Social Justice
Seeding Change
Showing Up for Racial Justice
Siempre
Sông2Sea
Southeast Asian Defense Project
Southeast Asian Freedom Network 
Southern Vision Alliance
Symbodied
The Feminist Front
The Ruckus Society
Trans Women of Color Solidarity Network
Under the Umbrella Bookstore
Unfurl & Rewild
Unified Asian Communities
Urbana Acupuncture LLC
US Campaign for Palestinian Rights
ViệtUnity Bay Area
Vigilant Love
Yerazad
Youth Climate Finance Alliance
Youth Rise Texas
Alice Aguilar
Aleyna Ndaw
Alyssa Hinton
Amrita Wassan
Amy Breslin
Amy Halvorson
Ash-Lee Woodard Henderson
Azadeh Erfani
Azalea Tang
Banah Ghadbian
Barbara Ransby
Beverly Guy Sheftall
Bunthay Cheam
Brittany Ferrell Young
Brittany Ramos DeBarros
Charlene A. Carruthers
Chau-Sa Dang
Chhaya Chhoum
christine santos
Claire Castleman
Dayo F. Gore
Debra Taube
Deepa Iyer
Didi Mamaligas
Dominic T. Moulden
Dylan Rodriguez
Edward Rifkind
Eiman Ali
Elizabeth Meadows
Eunice Uhm
Eva Cardenas
Ezra Mattaridi
Fahd Ahmed
Farihah Akhtar
Dr. Frankie Free Ramos
Georie Bryant
Hae In Kim
Helen Raizen
Hillary North-Ellasante
Irma Shauf-Bajar
Jacqueline Lam
Jennifer Raviv
Jona Hilario
Josh Vincent
Joyce Bartlett
julia daniel
Justice Gatson
Kalayo Pestano
Kari Nott
Kazi Fouzia
Kelly Archbold
Kereknaan Fiannaan
Learkana Chong
Lew Williams
Lïa Lake
Mahnker Dahnweih
Marianne Drummond
Mia Herndon
Micayla LeLugas
Monica Chan
Montague Simmons
Nabila Chowdhury
Namrata Kella
Nancy Nguyen
Nico Udu-gama
Nitya Velu
Pauline Lipman
Rayna Rusenko
Rico Gutstein
Rob Vessels
Robert Reyes Villagomez
Rose Brewer
Sage Crump
Sarah Swenson
Sasha Wijeyeratne
Serena Sebring
Sha Grogan-Brown
Shania Khoo
Sharon Kim
Shaun McMillan
Shereen Naser
Sherrill Futrell
Simran Thind
Sondous Eksheir
Stanlyn Brevé
Suzie Abajian
Tara Venkatraman
Tessa Xuan
Thamara Cruz
Thomas Mariadason
Tony Romano
Tracy Benson
troya wright
Yuan Wang
Zahra Billoo
Zainob Kol
Messages of solidarity from signatories:
"Free Palestine! Long Live International Solidarity!"
"Free Palestine! End the occupation! This is the only path to life peace and a future for all people between the river and the sea."
"Not in my name, I say as a Jew who lost family in the Jewish Holocaust. Settler colonialism is a war crime. Free Palestine."
"Center for Political Education unequivocally stands with the Palestinian people in their struggle for liberation. End the siege and the occupation now."
"This unequal and unbalanced war has no place for any form of violence and it is a crime what they are doing against the Palestinian people."
"Free the Land and Free Gaza, Stop the Gaza Genocide"
"We are holding the people of Palestine in our hearts and we will be in solidarity with the fight to end the occupation until the people of Palestine are free!"
"Until Palestine and Palestinians are free, there is no safety for either Israelis or Palestinians"
"Israeli-American Jews Say No to Genocide in Gaza"
"As a power-building Asian American and Pacific Islander organization whose communities have survived the violence of imperialism, colonization, forced migration, and displacement, OPAWL stands in solidarity with the Palestinian people, including our Palestinian American OPAWL members against the US-backed Israeli occupation. We know that none of us are safe while one of us is oppressed, and that AAPI liberation is bound to the collective liberation of all oppressed people. We urgently call on Asian American and Pacific Islander communities to continue our long legacy of fighting against colonialism, militarism, and genocide by standing with Palestinian liberation and resistance. Please join OPAWL in taking action by telling Congress to immediately de-escalate, call for a ceasefire, allow humanitarian aid to Gaza, and refuse to send any additional weapons or funding to the Israeli military.
End the siege. Lift the blockade. Stop the bombings. Stop the genocide."
"End Israeli apartheid! May Palestine and her people be free!"
"Be strong and act!"

"I stand in solidarity with the families and communities in Gaza and all peoples around the world who insist upon the end to occupation, apartheid, and genocide. None of us are free until all of us are free. We must name occupation. We must not hide the truth and think we can live lives of integrity–for ourselves and for all future generations."